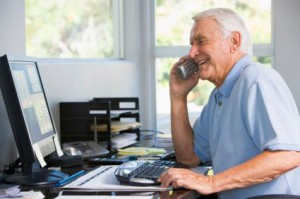 A new study has found that Baby Boomers are happier in their jobs – but also more stressed out.
The study, from PayScale, a company that compiles data on compensation and workplace issues, found almost 78% of Baby Boomers report having high job satisfaction. That is slightly better than Generation X (72%) and Generation Y (66.4%).
However, the study also found that almost 68% of Baby Boomers reported high job stress. That was more than Generation X (65.5%) and Generation Y (about 60%).
PayScale defined the generations for the study as follows:
The survey size was large. They spoke with 398,628 workers from Generation Y, 536,634 from Generation x and 265,281 Baby Boomers.
Reacting to the survey, Dan Schawbel, founder of Millennial Branding, said the findings reflect the fact that Generation Y – otherwise known as Millennials – have had more difficulty than previous generations in launching their careers.
About 28% of Millennials have had to move back into their parents' home, compared to just 5% of Baby Boomers, Schawbel told Market Watch. Some of them are being forced to take part-time jobs or jobs that don't require a college degree just to make ends meet and pay back college loans, said Schwabel, author of "Promote Yourself," which offers career advice to members of Generation Y.
"They're getting stuck in a lot of jobs," Schawbel told Market Watch.
The unemployment rate for 20- to 24-year-olds stood at almost 13% in September, far above the national rate of 7.2%, according to the Department of Labor.
Pay may also lead to lower levels of satisfaction. According to a study by Georgetown University's Center on Education, it now takes until the age of 30 to reach the national median wage. In 1980, that age was 26.
Eugene Steuerle, an economist with the Urban Institute, told Market Watch, "The job opportunities available to the young are much weaker than they were for the boomer generation."
However, most studies have found that a college degree will still lead to a better chance of finding a job.  According to the U.S. Bureau of Labor Statistics (BLS), the unemployment rate for those with a bachelor's degree in 2012 was 4.5%, compared to almost 7% for all workers. It's also far better than the rate for those with just a high school education, who had an unemployment rate in 2012 of 8.3%, according to the BLS.
Get Free Updates!
Stay in the loop with a bi-monthly newsletter, with all our news from the previous week.
We will never give away, trade or sell your email address. You can unsubscribe at any time.
comments
Sign up for our bi-monthly newsletters. We'll send you our featured articles, industry news and special deals.